Madagascar officers in coup claim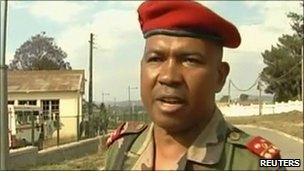 Military officers in Madagascar say they have taken over the island nation.
Col Charles Andrianasoavina, who made the announcement, was one of the officers behind a coup that brought Andry Rajoelina to power last year.
But Mr Rajoelina denounced the mutineers and said he was unafraid of their threats.
He said the action involved a small group who were trying to stir up trouble on the day of a referendum on a new constitution.
Madagascar has been beset by instability for several years.
President Rajoelina has been diplomatically isolated since coming to power and has ignored attempts by regional mediators to broker a consensus with the opposition.
The officers said they had dissolved government institutions and formed a military committee.
Col Andrianasoavina said the officers wanted national reconciliation, for political prisoners to be freed and for exiles to return to the country.
He said Malagasies were tired of waiting for a resolution to the political crisis.
"Alas the different parties continue to hold onto their respective positions, and the people of Madagascar are suffering the consequences of false pride," AP news agency quotes his statement as saying.
The BBC's former correspondent in Madagascar Jonny Hogg says Col Andrianasoavina was in the Capsat regiment that toppled President Marc Ravalomanana in March 2009.
It is unclear how powerful that regiment now is.
Correspondents say the colonel made his announcement at a military base near the capital's airport.
Journalist Hannah McNeish has told the BBC's Focus on Africa programme that the atmosphere near the airport is tense.
Police have fired tear gas at opposition demonstrators calling for a referendum boycott who have been protesting nearby and blocking a road to the airport, she said.
But Mr Rajoelina told reporters he was confident of his hold on power: "There are intentions to cause trouble by some people who want to block the transition.
"The government will assume its responsibilities and consequently take action," AFP news agency quotes him as saying.
There has been no sign of any major military deployments and public television and radio have continued with normal broadcasting, the agency says.
A witness told Reuters said it was calm outside the presidential palace in the centre of the capital, Antananarivo, where voting has been peaceful.
The new constitution would allow Mr Rajoelina to stay in power as long as it takes to organise an election.
It would also lower the age limit for presidential candidates from 40 to 35 years, allowing the 36-year-old to stand.
Mr Rajoelina, who has said he will not run for president, has organised huge rallies in support of a yes vote.
All three of the main opposition groups, each led by an ex-president, called for a boycott as they see the referendum as an attempt to legitimise Mr Rajoelina's position.
But Ms McNeish told the BBC there has been a better than expected turnout given the boycott call.
Mr Rajoelina, a former DJ and mayor of the capital city, rose to power on wave of popular support.
But some analysts say his failure to end leadership squabbles has eroded some of his popularity.