South Africa military to join rhino poaching fight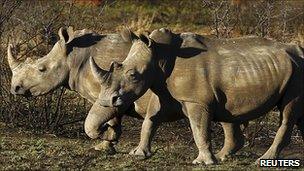 South Africa's army is to help game parks fight rhino poachers, the defence ministry has told the BBC.
"This is becoming a priority for us. We cannot continue to have a situation where rhinos are killed willy-nilly," said a department spokesperson.
More than 200 rhinos have been killed in South Africa for their horns since the beginning of this year.
The horns are highly prized on the black market and fetch high prices when sold in Asia.
Defence Minister Lindiwe Sisulu said she agreed to help fight the poachers after a request by a local animal protection body, Sanparks.
It has said "urgent" military intervention is needed.
"Rhino poaching is a crime we will have to stop immediately. It is cruel and brutal," the South African Press Association quotes the minister as saying.
Her spokesperson, Ndivhuwo wa ha Mabaya, told the BBC that details of the arrangement were still being finalised.
"We are not taking over from the police but we will be providing all the additional equipment they do not have," Mr wa ha Mabaya said.
Many arrests have been made by South African police in recent months and the cases are currently before the courts.
Poaching continues to thrive despite a tightening of anti-poaching laws in the country, authorities say.
Related Internet Links
The BBC is not responsible for the content of external sites.