Nigeria's Mend seize workers in oil-rich Niger Delta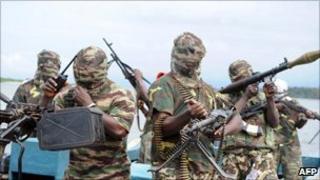 Seven Nigerian oil workers have been kidnapped in the latest raid in the oil-rich Niger Delta, reports say.
Mend, a militant group operating in the Delta, has claimed responsibility for the attack on Sunday night, the second of its kind in a week.
US company ExxonMobil has confirmed that one of its platforms was attacked off the coast of Akwa Ibom state.
The raid came as police in the state said they had arrested 400 people in a clampdown on kidnapping for ransoms.
It is believed that a breakaway faction of the Movement for the Emancipation of the Niger Delta (Mend) is behind the recent unrest, including twin car bombings which killed 12 people during a celebration of Nigeria's 50 years of independence last month.
Mend corresponds by sending e-mails to journalists either promising attacks or criticising Nigeria's government.
In the latest e-mail, Mend said it had taken the workers hostage to "prevent the Nigerian government from attributing the damage to this facility to an industrial accident", AP quotes the statement as saying.
Last week, the group claimed to have kidnapped up to seven foreign oil workers from another firm.
In the past, militants have cut the country's oil production by one-third, causing a spike in global oil prices.
The government and many oil militants reached a ceasefire agreement last year in exchange for cash payouts and job training - but a small faction of Mend has resumed the kidnappings.
Mend says it is fighting so that more of Nigeria's massive oil wealth is used to benefit the Niger Delta area which produces the oil.
But criminal gangs have taken advantage of the region's instability to make money from ransoms paid by oil companies, and stealing oil.