North and south Sudan deal to ease referendum tension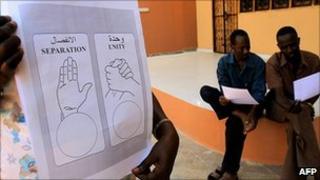 North and south Sudan have agreed a framework to resolve most outstanding issues ahead of a vote on southern independence, the African Union says.
Both sides have agreed to demarcate the north-south border while allowing northern nomads to graze in the south.
The framework also includes commitments to allow Sudanese citizens the right to live in either north or south Sudan.
Observers say the move will reduce some tension ahead of January's referendum, for which voter registration has begun.
The referendum is part of a peace deal which ended the north-south civil war.
The AU statement said both parties "committed themselves to the immediate demarcation of the north-south border".
"In the event of secession, this will be the longest inter-state border in Africa, hosting in its immediate vicinity on both sides a significant proportion of Sudan's population," the statement said.
"The parties have committed themselves to maintaining a 'soft border', which will permit unhindered economic and social activity and interaction, which will be essential for economic prosperity and harmony between the north and the south."
Under the new framework, the disputed border area of Abyei will be addressed directly by the presidents of Sudan and the semi-autonomous south, the statement said.
The BBC's James Copnall in Khartoum says the announcement from the AU's High Level Implementation Panel on Sudan, led by South Africa's former President Thabo Mbeki, will reduce some of the tension that has been growing in the build-up to the vote in January.
Logistical challenge
In another development, the much-delayed voter registration for the referendum began on Monday.
Registration has started late, in part because of a number of political disagreements between north and south.
An estimated five million people are eligible to vote, and officials now have a shortened period of 17 days in which to register them.
Getting material to all the centres, in one of the least developed places on earth, has been a real challenge, our correspondent says.
The United Nations has warned logistical problems are likely in some places on the first day.
Denis Kadima, director of the UN's Integrated Referendum and Electoral Division, said most of the materials should be in place, despite the huge logistical challenges, particularly in the South.
But in the Khartoum suburb of Gereif, things did not begin well, says our correspondent, who is at at a registration centre there.
The location of the registration centre was changed at the last minute, leaving domestic observers waiting outside the locked gate of the old venue.
At the new place, posters encouraged every southerner to register; but initially, there were more posters than people, our correspondent says.
South Sudan, which has most of Sudan's oil reserves, is considered likely to vote for independence, but many southerners fear Khartoum will never let their region break away.