Spain presses Morocco over Western Sahara deaths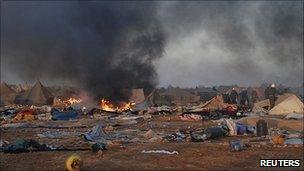 Spain is pressing Morocco for more details about a police raid at a refugee camp in the disputed territory of Western Sahara.
A Sahrawi Spanish citizen is believed to be among at least 12 people killed during clashes between Moroccan troops and protesters at the camp.
Morocco says 10 of the 12 who died were members of the security forces.
However, independence movement the Polisario Front has suggested that dozens of people were killed.
In a statement on Friday, it said more than 4,500 had been wounded and more than 2,000 people arrested, the AFP news agency reported.
On Thursday, Polisario had put the death toll at 11 and later revised the figure to 20 with more than 1,000 injured.
The Gadaym Izik camp was set up about a month ago outside the regional capital Laayoune as a protest by displaced Sahrawi people about their living conditions. It was home to more than 12,000 people.
Polisario said Moroccan forces raided the camp on Monday using live ammunition, tear gas and water cannon.
Spanish Foreign Minister Trinidad Jimenez described the incident as "very serious" and said Madrid was considering sending some of its diplomats from Rabat to Western Sahara.
"Faced with confusion and uncertainty over the number of victims and wounded, we are waiting for a definitive report so as to make an assessment," she said.
Oubi Bachir, Sahrawi special envoy to Ghana, told the BBC that many in the camp were in urgent need of help.
"People are suffering from their injuries inside their houses, and we think that it is time to call upon the international community to assist those people. They cannot go to the hospital because... they will be arrested," he said.
Morocco annexed Western Sahara - a former Spanish colony - after Spanish settlers pulled out in 1975.
The Polisario Front founded the Sahrawi Arab Democratic Republic (SADR) and waged a guerrilla war against Moroccan troops until a UN-brokered ceasefire in 1991.
The SADR is recognised by the African Union but not by the UN.
Rabat is offering to grant Western Sahara autonomy, while Polisario is demanding a referendum on full independence.
On Thursday, prominent human rights campaigner Aminatou Haidar told the BBC she believed Morocco was escalating clashes to block the UN-sponsored peace talks.
The raid on the camp overshadowed negotiations between the two sides in New York, which ended on Tuesday with no breakthrough.
Related Internet Links
The BBC is not responsible for the content of external sites.