Nigeria strike goes ahead despite presidential talks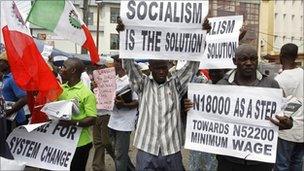 Nigerian unions are going ahead with a threatened nationwide strike for a rise in the minimum wage.
The two largest unions rejected a last-minute appeal from President Goodluck Jonathan to call off the action.
The unions want the monthly minimum wage more than doubled to $120 (£75) because prices have risen steeply.
But union leaders said they would meet later on Wednesday to decide whether to strike for three days as initially planned or call off the action early.
The protest is expected to affect a wide range of services across Africa's most populous nation.
The BBC's Caroline Duffield in the main commercial city, Lagos, says streets, shops and offices are eerily quiet.
A rally organised by the unions is under way in the city although many workers have simply decided to stay at home.
"It's very difficult, there is no vehicle on the road," security guard Okpara Adonis told Reuters agency.
He said private minibus drivers were exploiting the fact that state-owned buses were not working.
"In place of 50 naira ($0.33, £0.20) they are charging 100 naira for the bus, and there is no place to get fuel."
In the capital, Abuja, ministries and government offices, banks and public schools are closed.
Inflation has been running at double-digit rates in recent years, driven by increases in food and transportation costs.
The minimum wage has not risen for a decade.
Mr Jonathan cut short a visit to Lagos to meet representatives from the country's two main unions, the Nigeria Labour Congress (NLC) and the Trade Union Congress (TUC).
The leader of the NLC at the talks said the two unions' national executives would meet on Wednesday afternoon to decide whether or not to continue with the strike.
"We have heard the message of Mr President," NLC acting president Promise Adewusi told reporters after the talks with Mr Jonathan.
"We are going to go back to our organ [executive council]. The only thing we can say to you is that the strike is on until it is called off by the organ," he said.
Ahead of the talks, Mr Jonathan's office issued a statement saying it was committed to "realistic wages" for all workers.
Correspondents say there are fears that if the strike continues it will affect people's plans for next week's Eid al-Kabir nationwide public holidays on Tuesday and Wednesday as banks may not be open again until Monday.
Related Internet Links
The BBC is not responsible for the content of external sites.