Nigerian militants seize workers from oil rig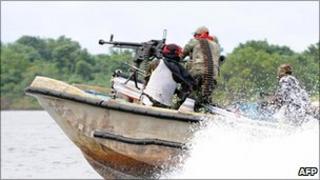 Gunmen in Nigeria have attacked an oil rig and seized up to seven workers after a recent lull in such raids.
Afren, the company which operates the rig, said two workers had been wounded. Those seized are reportedly from the US, France, Canada and Indonesia.
The raid came as an e-mail was sent to journalists warning of new attacks on oil installations in the Niger Delta.
Violence in the oil-producing region had subsided after the main militant group accepted an amnesty last year.
London-based Afren PLC said the gunmen had also attacked a support ship but that both the boat and the rig in the Okoro field off the coast of Nigeria's Akwa Ibom state were now under its control.
The wounded pair have been flown by helicopter for medical treatment, it said.
The company did not provide any further details of Sunday's attack but said drilling operations had been suspended.
It said five workers had been taken hostage but several other reports say seven people were seized - two from France, two from Indonesia, two from the US and one from Canada.
US State Department spokesman PJ Crowley confirmed that two US citizens had been taken.
An e-mail reportedly sent by the main oil militant group, the Movement for the Emancipation of the Niger Delta (Mend) said it had carried out the attack and that all those seized were safe and well, Reuters news agency reports.
Violence in the Delta region had caused a sharp fall in Nigeria's oil output until the amnesty offer saw thousands of gunmen lay down their arms.
But a Mend faction is accused of carrying out twin car-bombings in the capital, Abuja as Nigeria was celebrating 50 years of independence on 1 October.