ANC's Julius Malema wants fake Twitter accounts closed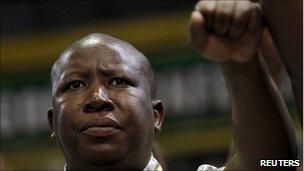 South Africa's firebrand youth leader Julius Malema has demanded that Twitter close fake accounts opened in his name.
The youth wing of the governing ANC, headed by Mr Malema has threatened to shut down the micro-blogging site if it refuses.
There are 12 Twitter accounts in Mr Malema's name but he says none of them are his.
Analysts say it is unlikely that the ANC Youth League could carry out its threat to close Twitter.
Numerous celebrities have previously complained about impersonators, and Twitter says it will close any accounts proven to be false.
It also has a "verified account" service for well-known personalities.
But ANCYL spokesman Floyd Shivambu said Twitter had been asked to close the fake accounts several times and had done nothing.
"Those who are hacking systems and impersonating the ANCYL leadership should immediately stop doing so because the laws of this country will come very hard on them," he warned.
One status update from Julius_Malema written in August reads: "@jacobzuma [South Africa's president] welcome home comrade! Thanks for letting me run the country without you for a few weeks. It was sharp, sharp [Great]."
But South Africa's Mail & Guardian newspaper reports that one Twitter user had responded to the threats by setting up a fake account in the name of Mr Shivambu.
Mr Malema has courted controversy on numerous occasions - using deeply personal insults against political opponents and saying a woman who accused President Zuma of raping her had had "a nice time".
For this, he was convicted of hate speech in March.
Related Internet Links
The BBC is not responsible for the content of external sites.