Zambia mine shooting: Two Chinese bosses granted bail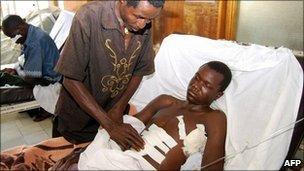 A Zambian court has ordered the release on bail of two Chinese mine managers accused of attempted murder after they allegedly shot a group of miners.
Eleven workers were injured in the protest about pay and conditions at the Collum coal mine in the southern town of Sinazongwe last month.
The magistrate set the bail at $10,000 (£6,000) each and ordered the pair to surrender their passports.
A BBC reporter in Zambia says the case has sparked angry reaction.
Chinese firms have invested heavily in Zambia in recent years.
The BBC's Mutuna Chanda said the Chinese mine managers - Xiao Li Shan and Wu Jiu Hua - looked relieved when the magistrate granted their bail request.
He said the court in Choma was not crowded as it is some 70km (about 40 miles) from the coal mine - and a long distance for the miners and their relatives to travel.
The case was adjourned to 2 December.
China has invested more than $400m in Zambia's mining industry, and Chinese investments in the country are continuing to grow.
But this has led to rising tensions in some areas and complaints that the government is prioritising Chinese investment over workers' rights.
President Rupiah Banda called for calm after Chinese firms were condemned by unions and opposition parties following the shooting.