Uganda's Rolling Stone paper told to stop outing gays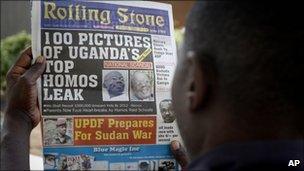 A judge in Uganda has ordered the local Rolling Stone newspaper to stop publishing the names and photographs of people it says are homosexual.
The judge granted a request by gay rights group Sexual Minorities Uganda (Smug).
The group says some homosexual people were attacked after a previous issue.
Homosexual acts are illegal in Uganda but last year an MP introduced a bill which would mean some gay people could face the death penalty.
Giles Muhame, editor of the two-month-old Rolling Stone paper, told the AFP news agency that he would defy the ban.
"We will publish more pictures but in a diplomatic way, so that we can dodge the law," he said.
He says he is trying to protect Ugandans from those seeking to "recruit children to homosexuality".
On Monday, it published a further 14 names and photographs, after saying last month it would reveal 100 homosexual Ugandans.
Fifteen names were identified last month, next to a headline which read: "Hang them".
High Court judge Vincent Musoke-Kibuuka said the publication was "an infringement or invasion of the right to privacy" of those identified, AFP reports.
Smug said several of its members were attacked or harassed after the first issue.
The group's Frank Mugisha said one woman was almost killed after her neighbours started throwing stones at her house.
The proposed Anti-homosexuality Bill sparked an international outcry after it was introduced to Uganda's parliament a year ago.
It has not been formally debated, amid reports the government is trying to quietly get it shelved.
Related Internet Links
The BBC is not responsible for the content of external sites.