Ivory Coast holds long-delayed 'reconciliation' poll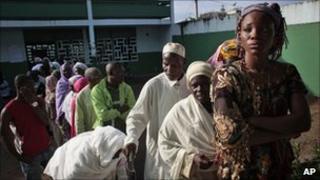 Voters in Ivory Coast have cast their ballots in presidential elections which have been delayed six times.
Incumbent Laurent Gbagbo is running against 13 rivals including Alassane Ouattara and Henri Konan Bedie.
There are concerns over security if the results are contested. Preliminary results are due within three days.
The vote is seen as a key step in helping the nation heal its deep ethnic rifts, which came close to splitting the country during civil war in 2002.
A deal signed in 2007 led to an uneasy peace in Ivory Coast - which had been seen as one of West Africa's most successful countries until the outbreak of hostilities.
Peaceful vote
Almost six million people were eligible to cast their ballots. Polling stations opened at 0700 GMT on Sunday and closed at 1700 GMT.
In some areas in Abidjan, the country's biggest city, polling stations were late in opening and voters complained about transport problems. Reports suggested public transport and even taxis were scarce.
But voting was otherwise reported to be peaceful and turnout appears to have been good.
Gen Abdul Hafiz, the military head of the 8,500 UN peacekeeping forces in Ivory Coast, told reporters his troops had been patrolling intensively.
"I can notice a peaceful environment, a climate of peace," he told reporters, "and I can see that people have come out to vote massively and there is complete peace that is existing in this sector and as well elsewhere that I have visited."
This is Ivory Coast's first presidential election in 10 years. It has been postponed six times since 2005, when Laurent Gbagbo's five-year mandate officially came to an end, amid rows over rebel disarmament and voter registration.
The BBC's John James in Abidjan says it is likely to be an extremely close race, which will almost certainly go to a second round.
Main rivals
The main candidate from the north, former IMF economist Alassane Ouattara - who was banned from previous races - is one of the favourites, our correspondent says.
His main rivals are President Gbagbo and Mr Bedie, a former leader ousted in a coup in 1999.
All three believe they will win, raising fears of unrest when the results come through.
If no candidate wins a simple majority, there will be a second round run-off on 28 November.
Georges Etranny, an author, songwriter and supporter of President Gbagbo told Agence France Presse: "Africans are used to post-election tensions. We are making a first step but we have to cross our fingers for the results to arrive and that everyone accepts the verdict."
Many of the contenders for the top job have similar policies: relaunching the economy, reducing youth unemployment and stopping further conflict.
The delay in organising elections since the 2007 agreement has put investments on hold, as well as postponing reforms of the cocoa industry which produces nearly 40% of the world's supply.
Alain Mosso, a 48-year-old law professor who voted in Abidjan, was cautiously optimistic: "Elections cannot resolve all our problems," he told Associated Press, "but they can turn a new page and restore stability to Ivory Coast."