Thousands of UN tents reach flood-devastated Benin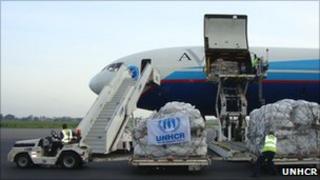 The UN refugee agency says its first emergency flight has arrived in Benin, bringing 1,500 tents to house people left homeless by flooding.
The UNHCR said in a statement that a further 1,500 tents would be arriving from Denmark on Friday.
It said the tents would give emergency shelter to some 15,000 people.
An estimated 100,000 people have been left homeless by the worst flooding in living memory. Some 680,000 have been affected.
'Very bad'
The torrential rains which have caused the floods are far heavier than the rains which normally arrive in this season, the UN says. It says the resultant flooding is affecting 55 of the country's 77 districts.
"This year is very bad for Benin," Francis Kpatinde, West Africa spokesman for UNHCR, told the BBC.
"Nearly 700,000 people are under water - they need urgent emergency shelter. We have already used supplies, some from our emergency stockpiles, but these tents will allow us to provide 15,000 people with shelter."
Earlier in the week it was reported that 800 cases of cholera had been reported but Mr Kpatinde said he had no further information.
The UN says the tents will be sent as soon as possible to parts of Benin where the waters are receding and they can be erected. It said the priority would be those who had lost their homes and were squatting out in the open.
It said it was working with the aid agency Caritas to co-ordinate the distribution of shelter and humanitarian aid.