Guinea presidential run-off election date proposed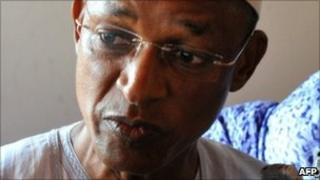 The head of Guinea's electoral commission has proposed 31 October as a date for the country's delayed presidential run-off.
The date will have to be confirmed by a decree signed by the acting President, General Sekouba Konate, in order to take effect.
But one of the two presidential candidates, Cellou Dalein Diallo, said the date was "too soon".
The run-off vote has been postponed three times already.
Alpha Conde is the other candidate.
Interim Prime Minister Jean-Marie Dore said he approved of the new date, and urged both candidates to "control their language, their supporters and their electorate".
He said: "We will go to the polls... What counts is the unity of the Guinean nation."
The election is intended to be the first democratic poll in the West African country after 52 years of authoritarian rule. The military seized power in 2008, leading to two years of political upheaval.
Mr Diallo is seen as the favourite to win the run-off. He took 44% of the votes in the first round - and claims he was denied overall victory only by fraud.
Since the first round of the vote, both sides have accused their opponent's supporters of inciting violence and disturbing the vote.