Guinea moves to halt deadly poll clashes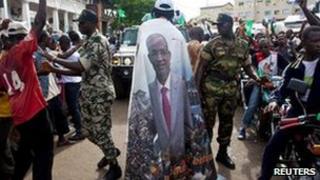 Guinea has replaced its election chief five days before a presidential run-off, in a move seen as aiming to quell rising violence linked to the vote.
Two supporters of presidential hopeful Cellou Dalein Diallo were killed earlier as police opened fire on crowds demanding the removal of election commission head Lounceny Camara.
The country's military rulers later said a soldier would replace Mr Camara.
Guinea hope the vote will draw a line under decades of authoritarian rule.
But the first round in June failed to give anyone a clear majority, and the run-off has been delayed several times because of violence between rival activists, and widespread claims of fraud.
Mr Diallo's supporters took legal action against Mr Camara, and the case was due to be heard later this week.
Analysts had already expressed concern that replacing the election head in the week before the run-off could put the whole process in doubt again.
Street battles
In a televised statement, junta leader Gen Sekouba Konate named Gen Siaka Toumany Sangare as the new election commission head, but made no comment on whether the run-off will go ahead as scheduled.
Gen Sangare is a Malian national, who is working in Guinea with the Organisation International de la Francophonie.
A junta spokesman said the decision to install Gen Sangare had been taken after "advice and consultation" with the international community.
Mr Diallo's supporters have been fighting running battles with police on the streets of the capital Conakry for the past two days demanding Mr Camara's removal.
Witnesses to Tuesday's violence told the AFP news agency that the activists had attacked police, who had initially repelled them with rubber bullets.
But officers later opened fire with live rounds, killing two people and injuring about 30 more, the witnesses said.
Mr Diallo is seen as the favourite to win the run-off. He won 44% of the votes in the first round - and claims he was denied overall victory only by fraud.
His rival, Alpha Conde, won 18% of the vote - although he claims he was cheated out of some 600,000 votes.
The first round was seen as Guinea's first democratic vote since independence in 1958, raising hopes of an end to military and authoritarian rule in the mineral-rich country.
Guinea is the world's largest exporter of the aluminium ore bauxite. It also has significant deposits of iron ore, but it remains one of the poorest countries in West Africa.