Nigeria Boko Haram sect 'shoots two in Maiduguri'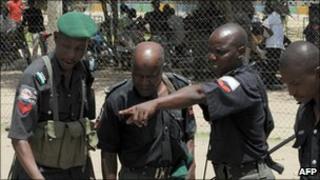 Two people have been shot dead in the northern Nigerian city of Maiduguri in the latest attacks blamed on the Boko Haram sect.
A senior opposition politician and a policeman were both killed by gunmen on motorcycles, police say.
Fifteen people, including 10 police officers, have now been killed in recent weeks.
Clashes between Boko Haram and the police in July 2009 left hundreds dead.
The army has been deployed to the city and motorbikes banned at night in a bid to stop the attacks.
But last month, hundreds of people suspected of being Boko Haram members escaped after gunmen attacked the prison where they were being held in the city.
The BBC's Bilkisu Babangida in Maiduguri says no-one has been arrested for the ride-by shootings since they began in August.
She says Alhaji Awana Ngala was a senior figure in the opposition All Nigeria People's Party and was also related by marriage to the governor of Borno state.
The policeman was shot outside the house of the speaker of the state's legislature. A number of other people were wounded in the attack.
She says the city's residents are afraid of more shootings, even though Boko Haram have made it clear they are targeting the police and politicians.
The violence started last year when Boko Haram members attacked a police station in Maiduguri before clashes spread to neighbouring areas.
Most of those who died were supporters of the sect, which is also known locally as the Taliban and wants to see Islamic law imposed across Nigeria.
It is opposed to Western education and accuses Nigeria's government of being corrupted by Western ideas.
The sect's leader, Mohammed Yusuf, was among those killed, apparently after he was handed over alive to the police.