Guinea run-off vote set for 24 October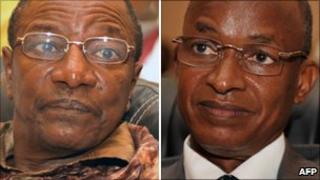 The delayed presidential election run-off in Guinea will take place on 24 October, the authorities have said.
The poll was due in September, but was postponed following violent clashes between rival supporters.
A subsequent date of 10 October was proposed but was never agreed upon because of a row over who should lead the electoral commission.
The election is intended to end the political crisis which began when soldiers seized power in December 2008.
Prime Minister Cellou Dalein Diallo is seen as the favourite in the run-off after gaining 44% of the vote in the first round in June.
His rival, veteran opposition leader Alpha Conde, won 18%, but says he was defrauded of some 600,000 votes.
Embarrassment
The BBC's Alhassan Sillah in the capital, Conakry, says it was obviously with a sense of relief that interim military leader Sekouba Konate signed the election date decree.
The delay in announcing a date for the second round had become something of an embarrassment both to the interim government and the Independent National Electoral Commission, he says.
The electoral commission was plunged into chaos last month when its president was convicted of electoral fraud during the first round. He later died after a long illness.
Mr Diallo's party is still unhappy about the appointment of Lonceni Camara as his replacement.
"It's all very well to have set a date but for us it is out of question that this Lonceni Camara should lead the process to the end," his spokesman is quoted by Reuters news agency as saying.
If the run-off passes off smoothly, it will be the country's first properly democratic election since 1958 independence from France.
Correspondents say the fighting in September between the two candidates' supporters has its origins in tensions between Guinea's two largest ethnic communities in Guinea. Mr Diallo is a Peul, while Mr Conde is a Malinke.
Despite being the largest ethnic group, a Peul has never been president. The Malinke are heavily represented in the ruling military junta.
Guinea is the world's largest exporter of the aluminium ore bauxite. It also has important deposits of iron ore. But despite its mineral wealth, the country is one of the poorest in West Africa.