EU hopes new recruits can shore up Somalia's defences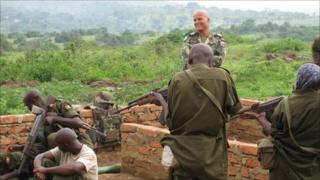 The lush, rolling hills of western Uganda could hardly offer a greater contrast to the shelled out streets of Somalia's capital.
At a Ugandan army base in Bihanga, about 950 young Somali men and a handful of women are being readied for life on Mogadishu's front line, where they will be battling Islamist insurgents.
The khaki-clad recruits take cover during an exercise simulating an attack on a patrol, while instructions are yelled out in Somali.
Surprisingly the words are coming from the mouth of Sgt Will Frawley of the Irish Defence Forces, one of more than 90 trainers from 14 European Union countries currently giving the Somali army a boost.
Sgt Frawley never imagined learning Somali would feature in his career.
"But for instructional purposes it is beneficial, as we get our point across easier and faster and the Somalis appreciate us trying to embrace their language," he says.
The recruits, he adds, are "very receptive individuals with a huge desire to learn".
'Hoping for change'
One of them, Abdirahman, says he has not been able to visit his family in Mogadishu for more than two years out of fear of reprisals by the main militant group, al-Shabab, which along with its allies controls much of southern Somalia.
"They behead people. They view those who do not support them as supporters of the infidels," he says.
Mohammed, another recruit, adds: "We are hoping for a change when we go back to our country.
"We would like to help by defending our country and promoting our religion."
For one of the French instructors, this mission feels like more than just a job.
In 1990, Hussein Abdi's family fled fighting in Mogadishu after his father was killed, and started a new life in France.
"It is going well here and I am learning a lot too," he says.
"The recruits are very brave. Some have known how to fight since the age of 10. We are now helping them get to another level and I hope this is going to help my country of birth - I'm very optimistic."
Specialist modules
Uganda has taken the lead in the fight against the Islamist militants, with more than 4,000 so-called peacekeepers in the African Union force in Mogadishu.
It has paid a high price - al-Shabab has said it was behind the bomb attacks in the Ugandan capital, Kampala, in July which killed 76 people.
While the Ugandan army provides the bulk of the basic six months' training in Bihanga, the EU instructors offer specialist modules, including Fighting In Built-Up Areas (FIBUA).
A few roofless brick houses have been constructed to make the exercises more realistic.
In one of them, a Somali soldier plays the part of an al-Shabab militant holding several prisoners.
"The most difficult thing for them is to control their firepower in order not to kill everybody but to kill only the enemy," says Maj Nicholas Delore of the French army.
European fears
The EU has launched this initiative, albeit not inside Somalia, at a time when it is becoming increasingly clear that the country's problems can no longer be ignored.
"In Somalia, there are a significant number of UK residents training in al-Shabab camps to fight in the insurgency there," Jonathan Evans, the director-general of the UK's Security Service, MI5, said in a rare public briefing in September.
"Somalia possesses many of the characteristics that made Afghanistan so dangerous as a seedbed for terrorism in the period before the fall of the Taliban. There is no effective government, there is a strong extremist presence and there are training camps attracting would-be jihadists from across the world.
"I am concerned that it is only a matter of time before we see terrorism on our streets inspired by those who are today fighting alongside al-Shabab."
On the internet there are plenty of videos showing well-armed al-Shabab militants being trained - young men with their faces masked and messages aimed luring in jihadists from across the world.
"I sincerely advise my beloved brothers and sisters to come join us and defend the religion of Allah," urges one with an American twang in his accent.
Risk of desertion
The first batch of Somali soldiers will head to Mogadishu to help prop up the weak transitional government when their training concludes at the end of October. One thousand more will then take their place at Bihanga.
In the past, irregular pay has led to government soldiers deserting and joining the Islamist insurgents.
The US government has said it will pay the salaries of the new troops, but desertions cannot be ruled out.
"If you have a political class that is consumed by its own power games, where the politicians are at each others throats and day by day the situation looks hopeless politically, it is dangerous," says Rashid Abdi of the International Crisis Group.
"If you deploy these troops who have been well trained, they will look at the political environment and feel this not the kind of politics I was trained to serve and they will desert. That is the danger and the reality in Somalia."
But Mohammed is shocked when I suggest some of them could swap sides.
"Whoever participates in this training, goes through all these hurdles and then defects to al-Shabab, I think that person is out of his mind and has betrayed his country, his people and his religion," he says.
No-one believes this EU-sponsored troop training will end Somalia's problems.
But it could shore up the transitional government and keep al-Shabab out of the presidential palace for a little longer.