Nigerian police names suspects in Abuja car bombings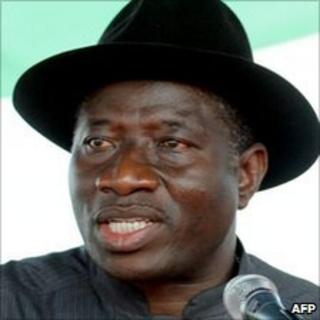 Nigerian police have named two men suspected of organising car bombings which killed at least 12 people in Abuja on Friday.
The police said Chima Orlu and Ben Jessy were Nigerian but gave no further details about the men.
President Goodluck Jonathan had earlier blamed "a small terrorist group that resides outside Nigeria" for the blast.
His comments cast doubts on an earlier claim of responsibility by the militant group Mend.
A former Movement for the Emancipation of the Niger Delta (Mend) leader, Henry Okah, is expected to be appear in court in Johannesburg on Monday after being arrested in connection with the bombings.
Mr Okah told the BBC on Friday that his group, which says it is fighting for a fairer distribution of Nigeria's oil wealth, was not responsible.
A statement, claiming to speak for Mend, had claimed responsibility for the bombings during celebrations in the capital on the 50th anniversary of independence.
The group apparently sent a warning shortly before the blasts, saying "several explosive devices have been successfully planted in and around the venue by our operatives working inside the government security services".
If confirmed, this would be the first time Nigeria's oil militants have staged an attack in the capital, Abuja.
However, on Sunday President Jonathan said in a statement that investigations had shown that members of Mend said "they know nothing" about claiming responsibility for the attacks.
Senior commanders in the group, who are abiding by a ceasefire with the government, have told the BBC they condemn the bombs.
In the ceasefire agreement signed last year, former fighters were offered an amnesty and small amounts of cash in return for handing in their weapons.
But there have been complaints about delays in this process.
The BBC's Caroline Duffield in Lagos says that Mr Okah is believed to lead a tiny faction of Mend that is opposed to the amnesty.
Some Mend commanders are infuriated that what they see as a tiny, violent faction apparently claims to speak for the whole group, our correspondent says.
Mend says it is fighting so that more of Nigeria's massive oil wealth is used to benefit the Niger Delta area which produces the oil.
But criminal gangs have taken advantage of the region's instability to make money from ransoms paid by oil companies and stealing oil.
Before the amnesty, attacks on foreign oil workers and installations had cut Nigeria's oil output by up to 20%.
Nigeria is one of Africa's biggest oil producers but most of its population lives on less than $1 a day.