Preaching non-violence to Nigerian militants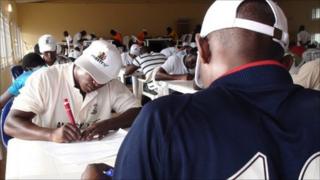 A number of people have been killed in explosions in Nigeria's capital, Abuja, as the country celebrated 50 years since independence. Earlier, a militant group from the Niger Delta had threatened to target the festivities. An amnesty that came into effect in the Delta last year has reduced unrest in the region. But the BBC's Caroline Duffield saw both progress and tensions when she visited a rehabilitation camp for former militants.
Behind barbed wire in a disused military compound, close to 1,000 young men loll about under trees in the late afternoon sunshine in Obubra camp, south-eastern Nigeria.
Wrestling, bellowing and swapping cigarettes, they seem oblivious to the gaze of watchtowers and heavily armed soldiers.
A matter of months ago, all were members of rival gangs, fighting Nigeria's military and killing one another in the creeks of the Niger Delta.
They now eat, wash and sleep alongside one another in cramped dormitories.
''We have cases here of those who have killed another's families, someone who has killed the other's father,'' says Allen Onyema, of the Foundation for the Ethnic Harmony of Nigeria, which runs the camp.
''But what we are teaching them all is that violence is bankrupt," he told the BBC.
'Say sorry'
Last year, tens of thousands of militants dumped their guns as part of an official amnesty - an attempt by Nigeria's government to stabilise oil production and end rampant kidnapping by militant groups.
The process purchased a fragile calm in the Delta, although many experts dismiss it as a merely temporary lull in the violence.
But inside the camp, the young men cherish hopes of a better future, and hold their trainers, who include visiting US academics, in awe.
"I feel like shedding tears," says Nathaniel Dokubo. "I think about the blood that was shed, the innocent chief who was kidnapped and killed."
Mr Dokubo joined others from his village to fight when his chief was murdered in a dispute between rival communities.
"Those of them we fought, those of them we killed, those of them who we made their families helpless and homeless - I want to say sorry," he says.
Capt Charles Alphin, a non-violence expert leading a team of specialists from the US, is trying to persuade the former militants that it is wrong to take up arms.
"We expose them to Martin Luther King's writings and teaching on their very first night. We capture their hearts," he said.
A former activist in the US civil rights movement, Capt Alphin and his team expose the youths to classroom discussions, lectures and role plays.
For many, it is their first time in a classroom.
"Within in a couple of days, we see a tremendous change," he says.
"At first, we see a young man full of fear. They think it's another trick, they're used to being tricked.
"But they listen. What we've found is that Dr King's teachings are global and universal."
Broken promises?
Critics of the amnesty process argue that the training is all too brief - two weeks in all - and the class sizes too large to really work.
As many as 2,000 young men are trained over the two-week period, after which they return home.
Their next step is supposed to be going to skill acquisition centres to learn trades such as welding and car mechanics.
But those centres promised by the government have not yet appeared.
And some critics question the logic of teaching Martin Luther King's philosophy to these ex-militants without the context of the Delta's intertwined problems of corruption, environmental degradation, and lack of development.
Over a three-day visit to the camp, it was clear that anxiety over the future bubbles beneath the surface.
Heart Bernard, a young veteran calling himself Commander Zero - and others - say they are not receiving small financial benefits they were promised.
''I was a ruffian," he says, warning that he cannot completely change.
"I cannot go back from what I have learned.
"But we are angry. We want the government to do what they promised.
"They are passing our money through our leaders. But our leaders are not delivering what was promised to us," he insists, furiously.
Another young man agrees, refusing to give his name.
"I want to change, but I need a living," he says.
"If Nigeria cannot take care of us, we will go back to our bad lives again."
''These teenagers have a crucial role,'' says Mr Onyema, pointing out that what the young men have learned is a first step.
''This 20,000 could form the critical mass that we badly need. The next 50 years could be very different for Nigeria.