Kenya ends co-operation in hosting Somali pirate trials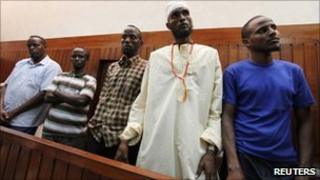 Kenya has ended an agreement with the European Union to host trials of suspected Somali pirates.
EU and other warships have been patrolling the sea off the East African coast in an effort to end pirate activity.
Dozens of suspected pirates have been handed over to the Kenyan authorities to face justice.
Kenya's prisons are already overcrowded and it is argued that the country can ill afford more prisoners from Somalia.
There are 35 Somali men serving prison sentences in Kenya and more than 100 others await trial after being captured at sea.
But BBC East Africa correspondent Will Ross says the decision to end the agreement to host the trials could not have come at a worse time, as pirate activity is rife.
Somali pirates have already carried out three attacks on merchant shipping in the Indian ocean within the past week.
A clause in the agreement with the European Union had allowed the deal to be cancelled with six months' notice.
That is what the Kenyan government has done, after accusing the international community of failing to fulfil its side of the bargain.
Adan Keynan, chairman of the Parliamentary Committee on Defence and Foreign Relations, was among those welcoming the move.
"Arresting, prosecuting and incarcerating pirates here exposes Kenya to these very serious security challenges," Mr Keynan told the local Daily Nation newspaper. "It's not in the interest of Kenyans to try Somali pirates here."
The EU points out it has spent money on Kenya's judicial system, via the United Nation's Office on Drugs and Crime (UNODC).
The UNODC says it has spent almost $3m (£1.89m) so far, some of which was used to build a special court to host piracy trials.
The EU's representative in Kenya, Ambassador Eric van der Linden, released a statement in which he pointed out that the crime also damages Kenyan economic interests.
"Without international protection of the international maritime transport routes ports like Mombasa or Dar es Salaam would be even further affected by piracy."
But Mr van der Linden said he hoped for continued co-operation and offered to engage in "consultations to overcome Kenya's difficulties".
Piracy is clearly a threat to Kenya, which does not have the capacity to patrol the seas and all nations, including Kenya, must be keen to ensure there is no impunity for pirates, our correspondent says.
But the current uncertainty surrounding the trials does little to suggest the international community is building a united and determined front to tackle the piracy scourge, he says.
Apart from Kenya, the Seychelles is the only other country to have agreed to host such trials.