Nigerian town Aba shuts down after school kidnap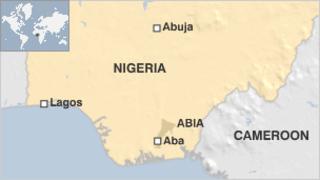 Schools, banks and markets are refusing to open in Nigeria's south-eastern town of Aba where 15 children were kidnapped on their way to school on Monday.
Residents told the BBC they feared further attacks by gang leaders notorious for demanding large ransoms.
Police say the gunmen holding the children have demanded $130,000 (£81,500) for their release.
There has been a rise in hostage-taking in Abia state, where many middle class Nigerians travel with armed escorts.
Abia state is on the fringes of the Niger Delta, where gunmen used to target oil workers for a ransom.
But in recent years, they have been kidnapping prominent Nigerians and their relatives, rather than foreign oil workers, whose security has been improved.
Police spokesman Geoffrey Ogbonna told the BBC that efforts had been intensified to find the whereabouts of the children.
They were on their way to the Abayi International School in Aba, the state's commercial capital, when a vehicle blocked the path of their school bus.
He said the children, of nursery and primary school age, came from wealthy Nigerian families.
Most hostages are released unharmed after a ransom is paid.
President Goodluck Jonathan described Monday's kidnapping as "callous and cruel".
"President Jonathan has ordered the inspector general of police and heads of other security agencies to take all necessary steps to rescue the abducted children and return them safely to their parents," his spokesman Ima Niboro said.
A banker, who spoke to the BBC on condition of anonymity, said he would not return to work until security was improved, and he was keeping his children at home.
Correspondents said that on Wednesday morning market keepers were also seen closing down, as rumours of an attack spread.
The BBC's Caroline Duffield in Lagos said Abia state was awash with guns and in recent months it had become a by-word for kidnapping and armed robbery.
In recent weeks the governor of Abia state offered the gang leaders an amnesty in return for giving up weapons.
That offer has been rejected, as intermediaries for the criminal godfathers said they did not believe the governor was serious, our reporter said.
Kidnappings in Nigeria's south-east are carried out by criminal gangs seeking ransom, but also by armed groups demanding a fairer distribution of oil revenue in a country flowing with oil but where most people live on less than $1 a day.
An amnesty that came into effect in the Delta last year has reduced unrest in the region - though three French oil workers were abducted in a raid on an offshore drilling ship last week.
Nigeria's parliament is considering a bill which would impose the death penalty on convicted kidnappers in a bid to deter would-be hostage-takers.