Mutilated bodies found in Burundi river 'rebels'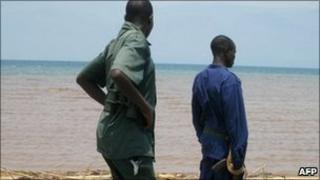 A human rights group in Burundi says some of the mutilated bodies found in a river last week belong to members of a former rebel group.
The Association for the Protection of Detainees and Human Rights said four of the 14 bodies had been identified as members of the FNL.
There have been a number of killings and arrests of opposition supporters in Burundi in recent months.
Correspondents say there are fears that armed rebellion could resume.
The bodies, some mutilated with machetes and one decapitated, were discovered in the Rusizi river west of Burundi's capital, Bujumbura.
Pierre Claver Mbonimpa - head of the human rights group - said there was no doubt about the identity of four of the bodies, which police also confirmed, according to AFP news agency.
They belong to the Forces for National Liberation (FNL), he said.
The group joined government last year, but its leader Agathon Rwasa fled after local elections in May which the opposition accused the government of rigging.
'Illegal arrests'
Mr Mbonimpa said scores of opposition members, including members of the FNL, had been arrested over recent months.
"What is worrying is that several of them have been reported missing in the last two to three weeks," he said according to AFP, adding that at least seven FNL members could not be found in any prison and officials could not say where they were.
"Almost all arrests nowadays are illegal. Prisoners disappear, prisons are filled with political detainees... human rights violation is widespread," Mr Mbonimpa said.
Some 300,000 people died in Burundi's ethnic-based civil war.
During the conflict, both Burundian President Pierre Nkurunziza and Mr Rwasa led mainly Hutu rebel groups fighting against the army, which was then dominated by the Tutsi minority.
Mr Rwasa initially refused to end the fighting when other warring factions set up a power-sharing government followed by elections in 2005.