Tragic end to US rescue bid off Somali coast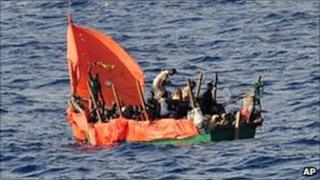 At least 13 people drowned and another eight are missing after a US naval ship tried to come to the aid of a broken-down skiff in the Gulf of Aden.
Navy officials in Washington said that the USS Winston Churchill had tried but failed to repair the skiff's engines.
It then began towing the vessel to the Somali coast.
But the rescue effort turned to tragedy when passengers rushed to one side of the vessel to get food and aid, causing it to capsize.
All 85 passengers were thrown into the water, though most were rescued.
The US Navy says they were made up of 75 Ethiopians and 10 Somalis, and the boat had been travelling from Somalia.
Investigation
The boat was first discovered adrift in the Gulf of Aden on Sunday, the US Navy said.
After crew from the destroyer were unable to repair the skiff's engine, they began towing the vessel back to the Somali coast.
They were transferring food and aid to the boat on Monday morning when the passengers "rushed to one side and the skiff began taking on water, quickly capsizing and sinking rapidly, leaving all 85 passengers in the water", the US Navy's Fifth Fleet said in a statement quoted by AFP news agency.
Sixty-one passengers were rescued and are now aboard the USS Churchill, the US Navy said, but 13 drowned and eight remained missing.
It said it was investigating what happened.
It was not clear why the skiff was in the area - a busy shipping lane which has been riven by attacks by Somali pirates.
But the United Nations says an estimated 74,000 Africans - mainly from Ethiopia and Somalia - fled poverty and conflict at home and crossed the Gulf of Aden to reach Yemen in 2009.