Gyude Bryant: Charges dropped against Liberia ex-leader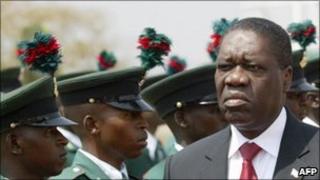 All charges have been dropped against Liberia's former president Gyude Bryant, who governed after the end of the civil war in 2003.
Mr Bryant faced charges of economic sabotage and theft of property.
He had also been accused of embezzling more than $1m (£660,000) when he was head of the interim government, but that charge was dropped last year.
"A major wrong has been corrected," Mr Bryant told the BBC.
"I have always said from day one that I was innocent of all charges."
After Charles Taylor agreed to step down in 2003, Mr Bryant led a power-sharing government, including rebel groups and Taylor loyalists for two-and-a-half years.
He handed over to Ellen Johnson-Sirleaf, Africa's first female elected head of state.
Mr Taylor is on trial in The Hague for war crimes allegedly committed in neighbouring Sierra Leone.