Mystery over 'helicopter attack on Somalia's al-Shabab'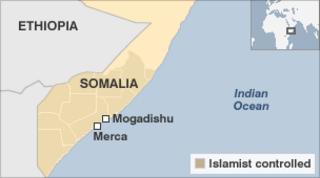 Residents of the southern Somali town of Merca say they witnessed an exchange of fire on Sunday between a helicopter and Islamist militants.
Al-Shabab, which controls the area and has links to al-Qaeda, said rockets from the helicopter narrowly missed killing some of its leaders.
The United States, which has previously targeted Islamist militants in Somalia, has said it was not involved.
Last year a US helicopter attack killed a senior member of al-Qaeda near Merca.
BBC East Africa correspondent Will Ross says if this was a failed attack on senior al-Shabab officials, perhaps it is not surprising that no-one is claiming to have carried out the mission.
Al-Shabab and other Islamist groups control most of southern and central Somalia.
The UN-backed government, supported by African Union (AU) peacekeepers, is only in charge of a few parts of the capital, Mogadishu.
Last week, AU executive chairman Jean Ping asked the international community to fund reinforcements to the peacekeepers and boost their numbers from 8,000 to 20,000.
More than 40 countries and international organisations are meeting in the Spanish capital, Madrid, on Monday to discuss ways of supporting Somalia's government in countering the Islamist insurgents.
The Spanish foreign ministry said that the gathering of representatives of the International Contact Group would consider plans to strengthen the AU peacekeeping force, which is below its mandated capacity of 8,000 troops.