Liberia ex-warlord Prince Johnson in leader race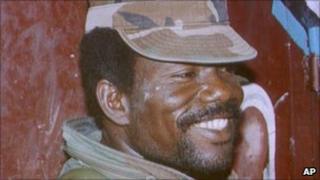 Former Liberian warlord Prince Johnson has told the BBC there is no reason he cannot stand in the country's presidential elections next year.
Mr Johnson, now an elected senator, said military leaders been elected in other countries.
His party was given the green light to compete in the polls earlier this week.
He is notorious for a 1990 video, in which he was seen drinking beer as his men cut off the ears of ex-President Samuel Doe, before killing him.
There has been a mixed reaction to his bid for power, with critics saying it could threaten the country's fragile peace.
Mr Johnson was a warlord during civil war between 1989 and 2003, in which some 250,000 people died.
'No exception'
Mr Johnson told the BBC's World Today programme that Liberia was no different to other countries that had fought war.
"We had a civil war like any other country, like America, like other countries that fought war," Mr Johnson said.
"They emerged from the war and then they moved their nation forward.
"General de Gaulle was a general who was involved in warfare but he became president who was elected by his people. You get Franklin D Roosevelt, you get General Eisenhower... Liberia is no exception".
Mr Johnson added that he had fought "to liberate our people from an oppressive regime" and apologised for any suffering caused during that time.
However, Liberian journalist Nyekeh Forkpa said he did not think Mr Johnson should stand in the elections, as the scars from the war remained too fresh.
In 2005, the former warlord was overwhelmingly elected senator for Nimba country.
He is set to run against Liberia's President Ellen Johnson-Sirleaf, Africa's first democratically elected female leader, and George Weah, a former footballer, in polls scheduled for November 2011.
Liberia's Truth and Reconciliation Commission has recommended that Mr Johnson be banned from holding public office for his role in the war.
It has said the same about Ms Sirleaf, who has admitted to backing ex-President Charles Taylor, who is currently on trial for war crimes at The Hague.