Remembering the last days of empire in Nigeria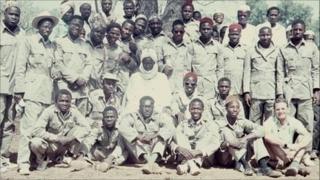 An elderly Englishman in a cream suit and trilby hat stands on a rocky outcrop above the ancient Nigerian city of Kano, surveying the teeming maze of courtyards and alleyways beneath him.
Amid the heat and dust, John Smith looks as though he belongs in another world. But he believes he has come home.
"My 20 years in Nigeria were certainly the best years of my life," he says. "Nothing I've done since has ever equalled that."
Remarkable friendship
Mr Smith, now 82, is one of the few surviving members of the last generation of British colonial officers who ruled Nigeria before independence in 1960.
Now, he has returned from the cool tranquillity of his retirement home in the English Cotswolds hills to see how the country is faring after 50 years of freedom - and to renew a remarkable friendship.
Mr Smith initially met Sulaiman Baffa in the first heady months of independence, when Mr Smith was training young Nigerian civil servants to replace the British.
He spotted Mr Baffa - then the head of a primary school - on a football pitch, leading a local team that had challenged Mr Smith's administrative trainees to a match. Mr Smith was so impressed by Mr Baffa's organisational abilities that he persuaded him to join the civil service course too.
Mr Baffa remembers that "the purpose was to train us to become administrative officers in the field, to take over from the British officers. And everything we learnt was in the spirit of the British officers, to believe at all times that you are doing the right thing. If at any time you thought it was not right, don't do it.
"And everything I have done in life, I have done with that in mind," he adds.
The two men have stayed in touch ever since.
"I can't think of any word better than mentor," Mr Baffa says of Mr Smith - "someone who has given me guidance and has believed in my ability to do things."
Their friendship illustrates the relatively smooth, and occasionally warm relationship between the British Empire and its northern Nigerian subjects in the years leading up to independence.
In contrast to southern Nigeria, which was governed with a heavier hand, the north was under indirect control. The traditional Muslim rulers, the emirs, retained power over most internal affairs.
Flying the flag - on a hut
When Mr Smith arrived in Kano as colonial cadet in 1951, his job was to tour the countryside, reporting to his superiors on life in the villages, making recommendations for development, and bringing local people news of the gradual steps towards independence.
For a 23-year-old fresh from England, it was an exciting, if sometimes lonely, life.
"A horse was my transport," he says. "It was important that we didn't have cars. Our bosses thought that if we did, we wouldn't get to know the people or speak the language properly.
"When I set off in the morning from one village to another, I would travel with quite an escort. Often there were 30 or 40 horsemen with you - it was quite medieval.
"At night in a village, I'd get out my old windy-windy gramophone and play a few records. They might have a bit of 'Eine Kleine Nachtmusik' and then the 'Laughing Policeman.'"
But Mr Smith was under no illusions about the extent of his power.
"Our touch was no more than going round with a feather duster," he says. "We were essentially, if you like, flying the flag. And my little Union Jack would be hoisted over the hut I stayed in in the evening."
On 1 October 1960, the Union Jack came down over Nigeria for the last time as Princess Alexandra, representing the Queen, handed over power to the country's new, elected rulers.
Disappointments
Hopes for the new state were high. It was the most populous in Africa, with vast oil reserves that were just beginning to be tapped.
But the first of several military coups came less than six years later. Soon afterwards, Nigeria was torn apart by civil war, as the south-eastern region of Biafra fought and lost its struggle for secession.
Meanwhile, much of the oil wealth was squandered. It is estimated that about $400bn was stolen from the national coffers, mainly by the country's military rulers, in its first four decades.
Civilian rule was restored in 1999, but many believe Nigeria has yet to fulfil its potential.
Mr Baffa, as a patriotic and honest Nigerian, is reluctant to criticise his country. But he admits corruption increased after the British left. "The civil service expanded enormously. Many more were employed - who were fresh - so there would be a dilution of quality."
"There is a lot of hush-hush," he adds. "Dealing that is not proper."
He eventually left the civil service to become a prominent banker. His last job was running the Nigerian mint.
'Very short period'
Meanwhile, Mr Smith was so committed to Nigeria that, unlike most of his British colleagues, he stayed on, serving the new state for nine years after independence.
He ended his colonial career in the 1970s as Governor of the Gilbert Islands (now Kiribati) in the Pacific Ocean. But Nigeria remained his greatest love.
"I suppose I would have expected more," he says as he sets off again to return to England. "We were all supremely optimistic perhaps in 1960 about what could be achieved."
But he does not hesitate to point out that colonialism created an artificial state out of more than 300 separate peoples. And he adds: "There is a problem with colonial government - that when it starts the colonial governor is not a Queen Elizabeth II, he is a Henry VIII, and you have to make that transition, which took Britain several centuries, in a matter of 60 years in Nigeria."
"Our role," he adds, "was essentially to ensure Nigeria could join the wider world, which we tried to do with minimal resources.
"But I think in the lifetime of a whole nation 60 years is a very short period. It is a raindrop in a thunderstorm."
The Empire's Last Officers is on BBC Radio 4 on Monday 27 September at 2000 BST, or you can listen on the iPlayer. Tim Whewell's film will be on Newsnight on BBC2 on Thursday 30 September at 2230 BST.