South Africa police smash 'rhino horn ring'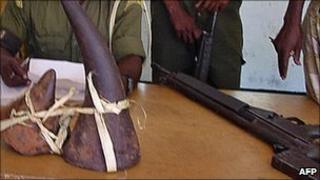 Nine people have been arrested and are to appear in a South African court on Wednesday for their alleged role in a rhino poaching syndicate.
The suspects include a businessman and two veterinarians operating in the Limpopo Province.
An official told the BBC the gang allegedly sent rhino horns to Asian markets.
More than 200 rhinos have been killed for their horns since the beginning of this year.
Rhino horns are sold in the black market and used in some Asian countries for medicinal purposes.
"It is a huge breakthrough for us and we believe it will serve as a deterrent and message to would-be smugglers that the net is closing in on their operations," police spokesperson Col Vish Naidoo told the BBC.
An undisclosed number of rhino horns were also seized during a raid in Musina, on the border of Zimbabwe and South Africa, where the group was operating.
The suspects will face charges relating to the killing, selling and dumping of rhino carcasses, Col Naidoo said.
The men linked to "hundreds of other incidents" are to appear in Musina magistrate's court on Wednesday.
South Africa recently tightened its anti-poaching laws but the industry continues to thrive in the country, authorities say.