PDP: Nigeria election timetable 'very tight'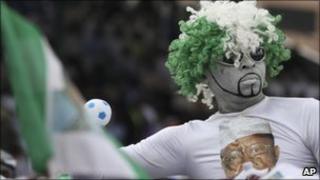 Nigeria's governing party has said holding elections in January, as planned, will be difficult.
PDP spokesman Rufai Ahmed Alkali, however, declined to formally call for a delay, saying this could be "misunderstood".
On Sunday, election officials said they were looking at ways to delay the poll so they could work on a credible voters' roll.
Several heavyweight PDP figures are vying for the presidential nomination.
Over the weekend, presidential security advisor Aliyu Gusau resigned so he can stand against President Goodluck Jonathan in the party contest.
The PDP (People's Democratic Party) has won all of Nigeria's elections since military rule ended in 1999 and so its candidate will be seen as the favourite for next year's poll.
Nigeria's previous elections have been marred by widespread violence and allegations of fraud.
'Primordial analysis'
Mr Jonathan, a southerner, became president in February after the death of Umaru Yar'Adua.
The PDP (People's Democratic Party) has previously said its candidate should be a northerner.
But Mr Alkali told the BBC's Network Africa programme that the party should move beyond such "primordial analysis" and select the best candidate for the job.
He said the four-month timetable for holding party primaries, campaigning and the elections was "very, very tight".
In saying it was exploring "all legal avenues for an extension of time", the Independent National Electoral Commission (Inec) said it remained committed to the next president being sworn in in May.
The election had been set for January partly to allow legal challenges to be completed before the inauguration date.
Mr Jonathan has promised to introduce electoral reforms, but correspondents say it will be difficult to implement radical changes before January.
Mr Gusau joins fellow northerners former military leader Gen Ibrahim Babangida and ex-Vice-President Atiku Abubakar in campaigning for the PDP ticket.
Some analysts say the contest could divide the PDP along north-south lines.
The PDP has a tradition of alternating power between northerners and southerners for two terms each.
Under this unwritten rule, its candidate in 2011 should be from the largely Muslim north, rather than the mainly Christian and animist south.
The BBC's Caroline Duffield in Lagos says it is clear party bosses have privately agreed that - because of the exceptional circumstances in which Mr Jonathan inherited power - he should be allowed to run.
He is the first president from Nigeria's southern, oil-producing Delta region.
Former anti-corruption fighter Nuhu Ribadu also said last week he wants to contest the presidential election but it is not clear which party he wishes to represent, if any.
Kano state governor Mallam Ibrahim Shekarau has said he wishes to stand for the opposition All Nigeria People's Party (ANPP).
Former military ruler Muhammadu Buhari is seeking to become the presidential candidate for the opposition Congress for Progressive Change (CPC).