Kenyans held in Uganda over Kampala World Cup attack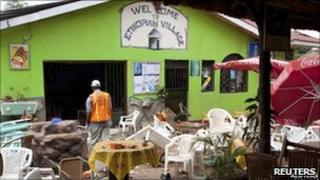 Ugandan police have arrested two Kenyans - a lawyer and a human rights activist - as they arrived in Uganda to attend a hearing for suspects in July's Kampala bombing.
Mureitha Mbugua and Al-Amin Kimathi had been due at a hearing for dozens of people charged with the attack which killed 76 people.
Some human rights workers have expressed fears for the men's safety.
They had previously criticised the transfer of 10 Kenyans to Uganda.
They said the extradition of the suspects was carried out without due process.
A Ugandan police spokesman did not explain why the Kenyan pair had been detained at Entebbe International airport, reports the AFP news agency.
The latest hearing in the case of at least 30 people, including the 10 Kenyans, arrested over the attack was moved to Kampala's Luzira prison for security reasons, Ugandan officials say.
The Kenyan pair are being detained in the Ugandan Police Rapid Response Unit, which Human Rights Watch says has previously been responsible for torturing and killing suspects.
Hard-line Somali group al-Shabab has said it carried out the suicide attack on people watching the World Cup final on TV.
It said it was revenge for the presence of Ugandan troops in the African Union peacekeeping force backing the Somali government against the al-Qaeda linked al-Shabab.