France suspects al-Qaeda behind Niger kidnappings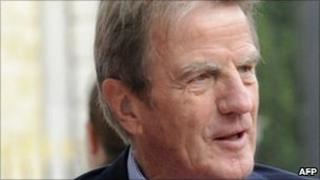 French foreign minister Bernard Kouchner says he suspects a group linked to al-Qaeda were behind the kidnapping of seven people in Niger.
The group, five of whom were French, was seized overnight on Wednesday in the town of Arlit in the Sahara desert.
Mr Kouchner said he believes Al-Qaeda in the Islamic Maghreb (AQIM), an offshoot of the Islamist militant group, was responsible.
AQIM has kidnapped French and other Europeans nationals in the past.
The hostages are employees of French construction company Vinci and nuclear energy firm Areva, which operates a uranium mine near Arlit.
The two other people kidnapped were from Madagascar and Togo.
"We suspect it's the same groups... linked to the mainstream of AQIM," Mr Kouchner told Europe 1 radio on Friday.
"Unfortunately, we have dealt with them before," he added.
However, Mr Kouchner said that there has been no claim of responsibility by any group so far.
Al-Qaeda in the Islamic Maghreb emerged in early 2007, after an Algerian militant group, the Salafist Group for Preaching and Combat (GSPC), aligned itself with Osama Bin Laden's international terror network.
It has waged a campaign of suicide bomb attacks and ambushes in Algeria, and in recent years has become more active in the Sahara, where governments struggle to impose their authority and gangs of smugglers, bandits and rebels operate alongside the militants.
In July, the group said it had killed Michel Germaneau, a 78-year-old French hostage being held in Mali, after a cross-border raid involving French and Mauritanian troops failed to free him.
AQIM also killed the British hostage, Edwin Dyer, last year after the UK government refused to give in to its demands.