Guinea confirms delay to presidential run-off election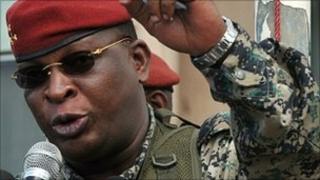 Authorities in Guinea say a presidential election run-off originally scheduled for Sunday will be delayed by at least two weeks.
Transitional leader Gen Sekouba Konate said the country risked a "grave political and social crisis".
The election is seen Guinea's first democratic vote since independence in 1958.
A UN special envoy has said he believes Gen Konate remains committed to a transition to civilian rule.
Preparations for the run-off had been thrown into doubt by violence sparked by the fraud conviction of two senior election officials.
They were postponed after election officials said they needed more time to prepare.
'Dead end'
Independent National Electoral Commission (Ceni) spokesman Thierno Ceydou Bayo confirmed on Thursday that the vote would be postponed at least until early October.
"We have not yet decided on a new date," he said. "One option is to delay it by two weeks. But there are others that are proposing three weeks."
Gen Konate made a televised address to the nation late on Wednesday, in which he said Guinea was "in danger".
"More and more we are moving away from our road map. I note with regret... that our country is heading for a dead end," he said.
"Guinea no longer has a margin for error and has no time to lose."
Former Prime Minister Cellou Dalein Diallo is seen as the favourite in the run-off after gaining 44% of first-round votes.
But his rival, veteran opposition leader Alpha Conde, says he has already been defrauded of some 600,000 votes.
UN West Africa envoy Said Djinnit rejected suggestions that the delay might be an attempt to frustrate Mr Diallo.
He told the BBC's Focus on Africa programme that Gen Konate was "fully committed to a transition".
Also on Thursday, a warehouse containing voting materials caught fire in the capital, Conakry. Election officials said it was thought to have been caused by a short circuit.
Before the run-off poll was delayed, tension was reported to be growing between ethnic Peul and Malinke - Guinea's two largest communities.
The Malinke are heavily represented in the ruling military junta, which seized power after the death in 2008 of autocratic President Lansana Conte, who had ruled the country for 24 years.
Mr Diallo, a Peul, said he was "disappointed" by the decision to delay the run-off, while Mr Conde, a Malinke, was reported as saying his camp had never been "preoccupied by the date of the second round".