Tweeting spy offers truce to South African police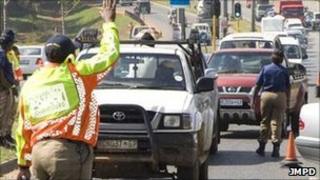 A man who has been using Twitter to warn drivers about police roadblocks and speed traps in South Africa has offered the police a limited truce.
The man, who calls himself "PigSpotter", pledged to stop pointing out roadblocks in Johannesburg in return for time on local radio.
Johannesburg's municipal police earlier warned the Twitter user could be charged with obstructing justice.
"PigSpotter", who has more than 6,000 followers, has defended his actions.
'Hero'
On Wednesday, the police said they were searching for the user of the social networking site and that an arrest could be made "soon".
"We have information on him. Even if he stops what he is doing, he has already warned a lot of would-be offenders and would still need to appear in court," Superintendent Wayne Minnaar said.
But "PigSpotter" has denied he is breaking the law.
"The police have to be visible when they are doing speed traps so them hiding themselves is illegal - that is why I do what I do," he said in an interview on radio 702 earlier this week.
He also defended his use of pig references in his tweets, saying it was purely to make people laugh.
Some of his followers have hailed him as a hero, with many thanking him for saving them money on traffic fines, while other have warned him of the consequences of his actions, which could include being sent to jail.