Lost pension hopes in DR Congo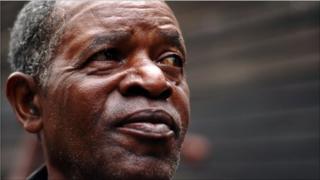 Although life expectancy in the Democratic Republic of Congo remains below 50, the country does have many elderly citizens.
But the turmoil in national institutions after decades of mismanagement and conflict means that only a small minority of them receive a pension.
In an impoverished neighbourhood in Goma, the largest city in eastern DR Congo, three elderly siblings sit in front of their well-kept cabins made of simple wooden planks.
Aircraft roar past over their heads, en route to the airport down the road.
They are losing hope of ever receiving a pension.
'Chaos'
Charles Mambo, who has just turned 60, says he would like to keep working, but that his poor health has made it impossible for him.
"I'm a painter. I stopped at the age of 50. It was a health matter, because I'm growing old.
"Disease has stopped me from continuing to work," he says.
The calamitous final years of the Mobutu era, followed by 15 years of successive wars and changes of regime in the region, have thrown the state pensions office into chaos.
Even though Mr Mambo did pay towards a pension, he has now lost hope of claiming his due.
"All the pensions data has been sabotaged," he says.
"I can't receive a pension because our government has not followed up. We, too, have given up."
To make matters even worse, his records went up in smoke when the Nyiragongo volcano erupted and destroyed most of Goma in 2002.
"There is no way to follow up without documents."
His 50-year-old sister Josephine Ndeka is now the main earner in the household.
Ms Ndeka wants to carry on working - selling drinks from her home - for as long as possible, because if she stops then she would have no alternative income to fall back on.
"I won't receive a pension because I don't work for the government. I'm self-employed.
"Small business-owners don't get a pension," she says.
Family reliance
Her brother Francois Omeonga Mambo is the head of the family. He is 65 but he, too, must find a way of supporting the household.
"I used to work at the Volcano Printing Works. That's where I started my life," he recalls.
Since he lost his job there years ago, he has been doing odd jobs.
"At the moment, I have a little business here at home: I charge lorry batteries," he explains.
That is when power is not cut, as it was the day I spoke to them.
When the going gets tough, Mr Omeonga said that he would normally turn to members of his ethnic group for support - as do most elderly people across Africa.
But as his family comes from another region, he has no-one to turn to nearby.
'Asked for money'
Like his brother, he does not expect to receive his pension, and said his family was now his only resource.
"If you want to pursue your pension, you are asked for money - a lot of it.
"So you grow old, and you end up dying without a pension," he says.
Linda wa Linda, the chief with authority over the narrow lanes that wind their way across the lava field on which the Mambo family has built its cabins, says that the problem extends to the rest of the population.
"The situation of elderly people in my neighbourhood is basically critical, because they receive no assistance," he says.
"They cope on their own. If they have children who studied or found work elsewhere, those are the ones taking care of them.
"I would say it is the same all over Congo. There are no suitable pensions."
President Joseph Kabila, who was visiting Goma on the same day, promised to make social issues the focus of the year 2010.
The chief hopes that he will deliver on his promises.
But for the moment, Mr Linda says that "there is no future".
"Our politicians don't care for the lower classes."
As for the provincial social security institution in charge of paying out pensions in North Kivu province, its managers have remained unavailable for comment, despite repeated attempts to contact them.