Zimbabwe releases four US Aids workers on bail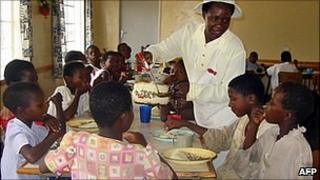 Zimbabwe has released on bail four US health workers suspected of running a clinic and dispensing Aids drugs without a licence.
The four, along with two other staff from New Zealand and Zimbabwe, were told by a magistrate to pay $200 (£130) and surrender their passports.
They will next appear in court on 27 September.
The medical team, which worked from two clinics in Mutoko and Harare, denies the charges.
The accused are Gloria Croxwell, 48, Anthony Jones, 39, Gregory Miller, 64, and David Greenberg, 62, all from the US, Andrew Cheyne, 48, from New Zealand and Tembinkosi Ncomanzi, 37, from Zimbabwe.
The penalties for the foreign workers could include a fine and deportation.
The Christian volunteer health team from California includes a doctor, two nurses and a community worker.
They mainly looked after Aids orphans and HIV-positive patients, the US embassy said.
A police spokesman told the state-controlled Herald newspaper that the six were arrested "for questioning in connection with practising without a premises licence and dispensing medicines without the supervision of a pharmacist".
The group's lawyer Jonathan Samkange criticised the conditions they had been kept in.
"This is excessive. They shouldn't have been arrested in the first place.
"You don't arrest people who are helping your own brothers who are suffering from Aids."
The health workers are members of a Baptist church in Oakland. The church said the volunteers from the congregation had worked in Zimbabwe for 10 years and that the arrested workers were part of a team that had brought a four-month supply of drugs to close to a thousand people with Aids, some of whom are orphaned children.
The church said this was the first time questions about a team's licensing had been raised.
Zimbabwe has one of the worst HIV infection rates in the world.