Swaziland unions condemn 'foot torture' threat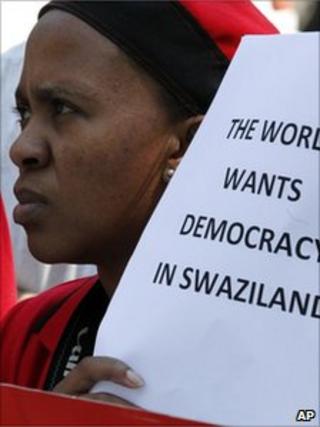 Swaziland unions have condemned the prime minister's suggestion that dissidents should be beaten on their feet with spikes.
Barnabas Dlamini also said foreigners who meddled in the affairs of sub-Saharan Africa's last absolute monarch should be subject to the traditional punishment, known as "sipakatane".
Some 50 pro-democracy activists were arrested this week.
They want King Mswati III to give up some of his powers.
Since Mr Dlamini's statement was reported on Thursday, officials have made it clear he was making a suggestion, rather than announcing a new policy, the state-owned Times of Swaziland reports.
The punishment involves using a pedal with metal or wooden spikes to beat someone's bare feet repeatedly, causing paralysis.
The kingdom's labour unions now want the head of government to withdraw the statement, calling it "a declaration of war" against foreigners as well as Swazis.
"It means even here at home, it will be used on those fighting for people's rights," said Mduduzi Gina of the Swaziland Federation of Trade Unions.
"Such is done at a home where there is a child who is seen to be speaking the truth but we are of the view that we are past that time," he is quoted as saying by the Times of Swaziland.
South Africa's main trade union federation Cosatu backs the campaign for democracy in Swaziland and several South Africans were deported ahead of this week's protests.
But Vincent Ncongwane from the Swaziland Federation of Labour (SFL) said they had the right to invite support from across the border.
"What law did we break by enlisting people from outside? He should say which law we broke instead of threatening us?" he asked.
King Mswati is accused of living a life of luxury while most of his subject live in poverty.
He has also been criticised for having 13 wives in a country with one of the world's highest rates of HIV infection - 26% of those aged 15-49.