Guinea election head convicted of fraud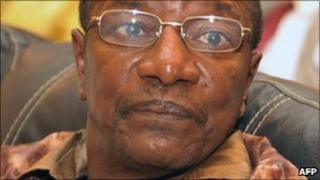 The head of Guinea's election commission and a senior aide have been sentenced to a year in jail for fraud during June's presidential vote.
The verdicts are likely to increase tensions ahead of the 19 September run-off, correspondents say.
The complaint was lodged by veteran opposition leader Alpha Conde, who faces ex-Prime Minister Cellou Diallo.
The vote was seen as the first democratic election in the mineral-rich West African state since independence.
The army seized power after the death of autocratic leader Lansana Conte in 2008.
Neither men were in court to hear the verdict. National Independent Election Commission (Ceni) president Ben Sekou Sylla has been in France for medical reasons since the day after the vote.
Ceni planning director El Haj Boubacar Diallo told the AP news agency that he first learnt of the sentence against him was when a journalist phoned him for his reaction.
"I was at the office all day yesterday [Thursday]. No-one from the court called me. Not even my lawyer was told about the judge's decision," he said.
The former prime minister is seen as the favourite in the run-off after gaining 44% of the first round vote, compared to 18% for Mr Conde.
"Alpha Conde knows he cannot win. So he is using his connections inside the army and inside the interim government to try to manipulate the outcome of the vote," the Ceni planning director said.
Some fear that the vote could raise ethnic tensions in Guinea as the two men come from the country's two largest communities - Mr Diallo is a Peul and Mr Conde a Malinke.
Guinea is the world's largest exporter of the aluminium ore bauxite. It also has important deposits of iron ore.
Despite its mineral wealth, the country is one of the poorest in West Africa.