Hillary Clinton: South Sudan referendum is 'time bomb'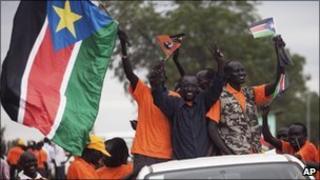 The referendum on independence for Southern Sudan is a "ticking time bomb", US Secretary of State Hillary Clinton has said.
The vote is due in January and Mrs Clinton said the outcome was "inevitable" - backing for secession.
President Omar al-Bashir's party has, however, rejected her comments.
The referendum was part of a 2005 peace deal to end two decades of conflict between the north and oil-rich south.
Mrs Clinton called on Sudanese and international leaders to do more to prepare for the poll.
She observed that the north was unlikely to welcome the prospect of losing its share of oil revenues from the south but said the south's leaders must make "some accommodations" with the north "unless they want more years of warfare".
Southern Sudan, where most people are Christian or follow traditional religions, is already semi-autonomous and is run by the SPLA former rebels, who fought the Muslim-dominated, Arabic-speaking north until the 2005 deal.
'Historical bond'
US President Barack Obama is to attend a special UN meeting on Sudan's future on 24 September, his ambassador to the UN, Susan Rice, announced.
She said Mr Obama saw the meeting "as a very important vehicle for focusing international attention" on the referendum ahead of the "last critical 100 days before that vote".
There have been numerous warnings that the region, one of the world's least developed areas, is not ready to hold the referendum.
Voter registration has not started, and the question of who exactly will be allowed to vote has not been decided.
Last week the two sides finally agreed after months of wrangling on who should head the body in charge of organising the referendum.
"The time frame is very short. Pulling together this referendum is going to be difficult," Mrs Clinton said after giving a speech on the subject to the Council on Foreign Relations.
"But the real problem is, what happens when the inevitable happens and the referendum is passed and the south declares independence. What happens to the oil revenues?"
Rabie Abdelati, from President Bashir's National Congress Party (NCP), however told the BBC's Focus on Africa programme that he did not think southerners would necessarily vote for independence.
"We know this very strong historical bond which exists between the people of the north and the south," he said.
However, he did agree with Mrs Clinton that secession would "create a lot of problems".
The Southern Sudanese authorities last month launched a competition to compose a new national anthem for the region.