Senegal teachers convicted over children's begging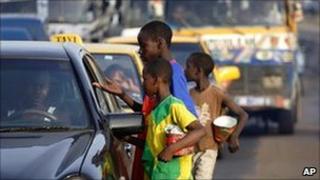 Seven Koranic teachers in Senegal have been condemned to jail sentences after they were found guilty of forcing children to beg.
However, the teachers will only go to prison if they force children to beg again within the next six months.
Up to 50,000 children are being exploited by their teachers in Koranic schools in Senegal, according to Human Rights Watch.
This is the first time that a court has condemned such abuses.
'Mass trafficking'
A tougher sentence may have been expected but Wednesday's ruling is symbolic.
A law was passed five years ago which criminalised the forcing of another person to beg but it was not enforced.
It was not until the end of last month that the police started rounding up beggars after a move by the authorities to clamp down on extremist Koranic masters who mistreat children in the name of religion.
Human Rights Watch says the latest ruling is a step in the right direction but there must be a sustained effort to tackle the problem.
According to the organisation, thousands of children are being trafficked between Senegal and neighbouring Guinea-Bissau.