'Boko Haram attack' frees hundreds of prisoners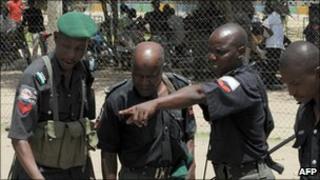 At least 700 prisoners have escaped during an attack on a jail in northern Nigeria, including members of a militant Islamist sect.
Police said four people died in gunfire after members of the Boko Haram group attacked the jail, breaking locks and setting parts on fire.
Officials said 150 suspected members of Boko Haram were among the escapees.
On Tuesday, authorities in the city of Maiduguri blamed the group for a series of recent killings over the past month.
Police commissioner Danlami Yar-Adua told AFP news agency that 732 inmates had escaped during the sunset raid, while 30 were left.
One soldier, one police officer and two residents were killed in the resulting shootout between attackers and security forces, while six others are in a critical condition.
"They came in large numbers, heavily armed, and began shooting at the prison gate," Salisu Mohammed, a guard, told AFP.
"Some of us were hit while others fled."
Supporters of the sect are now believed to be hiding in the surrounding mountains, police said.
Joint patrols
Resident Usman Ahmad said that calm returned to the area late on Tuesday after a "terrifying" gun battle.
"There was heavy fighting between the attackers and the security forces which lasted for almost an hour," he said.
Many of the Boko Haram prisoners being held had been arrested last year after the group rioted and attacked police stations.
Hundreds of people were left dead in the clashes, mostly Boko Haram members.
The jail break comes after the army announced that it was conducting joint patrols with police in Maiduguri, following several attacks which have left 12 people - including seven policemen - dead in the past month.
The police have also banned riding motorcycles at night as several of the shootings were carried out by people on motorbikes.
The sect, also known locally as the Taliban, wants to see Sharia law imposed across Nigeria.
It is opposed to Western education and accuses Nigeria's government of being corrupted by Western ideas.
The sect's leader, Mohammed Yusuf, was among those killed, apparently after he was handed over alive to the police.