Ban urges Rwanda not to withdraw UN peacekeepers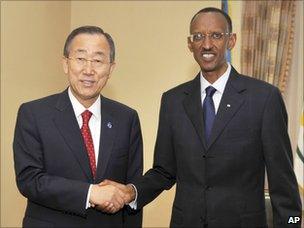 The UN's secretary general has urged Rwanda not to withdraw its peacekeepers from Sudan over a leaked report saying its troops may have committed genocide.
Ban Ki-moon said he was "disappointed" the draft had been released, after he held talks with President Paul Kagame in Kigali in a bid to ease tensions.
The report accuses Rwandan soldiers of massacring civilians in the Democratic Republic of Congo in the 1990s.
Rwanda says the document is "malicious" and "ridiculous" and wants it amended.
The UN last week delayed publication of the document until 1 October, to give countries more time to comment on its contents.
Mr Ban unexpectedly flew to Kigali on Tuesday to discuss the threat by Mr Kagame to withdraw Rwanda's 3,500 peacekeeping forces.
Rwanda has 3,300 soldiers and 86 police serving with a joint UN and African Union force, Unamid, in the troubled western Sudanese region of Darfur. It is led by Rwandan Lt Gen Patrick Nyamyumba.
Another 256 troops serve with the UN Mission in Sudan (Unmis), which is supporting the implementation of a peace deal between north and south.
After meeting Mr Kagame in the capital, Mr Ban told reporters: "Both the president and I are disappointed that the draft report has been leaked.
"The United Nations is interested in establishing all the facts relating to DRC uncovered by this mapping exercise."
Mr Ban said he had commended Rwanda's support of the whole UN agenda and peacekeeping operations in Sudan, and hoped it would continue.
"I have asked President Kagame to continue with that contribution around the world and in particular when we are going to see a referendum in Sudan in January next year," he added.
He said they would discuss the report again later this month in New York.
Foreign Minister Louise Mushikiwabo declined to say whether Mr Kagame had withdrawn his threat about the peacekeepers, but said the government was happy that Mr Ban had come to listen to their views.
"My government has very simple demands and that is that our concerns and our worries and indeed our revolt concerning the draft report that was leaked to the media a few weeks ago, be heard," she added.
Ms Mushikiwabo earlier described the leaked report on neighbouring DR Congo from the UN High Commissioner for Human Rights (UNHCR) as "fatally flawed" and "incredibly irresponsible".
The draft of the 600-page probe accuses Rwandan troops and their Congolese rebel allies of killing tens of thousands of Hutus after invading the country to hunt those responsible for the 1994 Rwandan genocide.
"The systematic and widespread attacks described in this report... reveal a number of damning elements that, if they were proven before a competent court, could be classified as crimes of genocide," it states.
Rwanda is not the only country targeted in the report. Other nations who sent troops into DR Congo, such as Angola, are also mentioned, but Rwanda has come in for the most severe accusations.
UN High Commissioner for Human Rights Navi Pillay has said she will publish their concerns in an annex to the report.
Related Internet Links
The BBC is not responsible for the content of external sites.