Nigeria sets presidential election date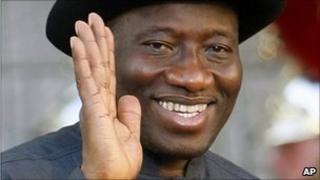 Nigeria will hold its next presidential election on 22 January 2011, officials have announced.
The ruling People's Democratic Party (PDP) will now have to decide whether to allow President Goodluck Jonathan to run as their candidate.
Mr Jonathan came to power after the death of President Umaru Yar'Adua.
But his candidacy would break the PDP's unwritten practice of alternating power between politicians from the north and south of the country.
Northerner Mr Yar'Adua died less than half-way through his first term in office, but the PDP favours giving two terms to each region, and Mr Jonathan hails from the south.
The party believes alternating the presidency helps to soothe the simmering tensions between rival ethnic and religious communities.
Last month, the PDP appeared to be giving ground on the issue by saying in a statement that Mr Jonathan "has the right to contest the presidential primaries".
But Mr Jonathan's initial burst of popularity when he took the reins of earlier this year appears to be fading, and analysts are sceptical whether the PDP will want him on its ticket.
And Mr Jonathan has not yet declared whether he wants to stand for election.
Nigeria, Africa's leading oil producer and most populous nation, has a history of coups, ethnic and religious unrest, and faces a huge problem with corruption.
The PDP has ruled the country since its return to democracy in 1999.
Election officials said parliamentary polls would be held on 15 January, and elections for state governors on 29 January.