South African trade unions suspend public sector strike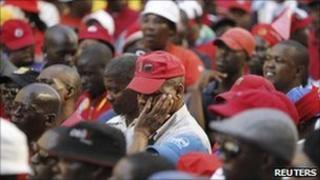 South African trade unions have suspended a strike which has paralysed schools and hospitals for the past 20 days.
Trade union leaders said the move would allow members to consider the latest government offer.
Some 1.3 million civil servants went on strike demanding an 8.5% pay rise, while the government has offered 7.5%.
The strike has seen strong criticism of President Jacob Zuma, who the unions had helped bring to power in 2009.
'Immediate'
The government had said it cannot afford the unions' demand.
But last week Mr Zuma ordered his ministers to negotiate an end to the strike.
The government's renewed offer had been initially refused by the unions, and their powerful umbrella group, the Congress of South African Trades Unions, Cosatu.
But now the strike has been suspended to allow unions to consider the government's offer.
"We suspend it [the strike] immediately, and we want workers to return to work as soon as possible. That means tomorrow," Chris Klopper of the Independent Labour Caucus said.
Public Service and Administration Minister Richard Baloyi is expected to issue a statement later on Monday, his spokesman Dumisani Nkwamba said.
The military had brought in army medics to take over hospitals.
In some places the strike had turned violent, with striking workers beating nurses who crossed picket lines.
Students had also raised concerns that the strike would affect their prospects of graduating, as school closures dragged on further into the term.
Workers who came to hear union officials shouted in protest when they announced that the strike was being suspended, it was reported.
"There comes a time in any strike in which we must weigh our options," president of the South African Democratic Teachers Union, Thobile Ntola told crowds of red-shirted strikers.
Workers had also demanded generous housing allowances in addition to pay rises that were double the rate of inflation.
Analysts said striking workers are at risk of alienating the public at large, many of whom are not as well paid.
But public sector unions are angry that they have received so little in return for helping Jacob Zuma become the head of the African National Congress and president of South Africa, analysts say.