Mass arrests over Mozambique food riots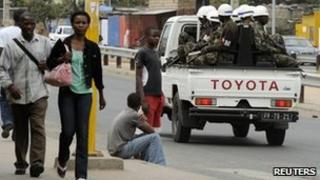 Police in Mozambique have arrested 142 people over last week's riots which led to 13 deaths.
A jump in the price of bread and other goods sparked three days of protests on the streets of the capital Maputo.
A further six have been detained, accused of inciting violence in the northern Nampula province.
The Mozambique government has resisted calls to take action to reduce the price of bread, saying the hikes are "irreversible".
The price of petrol and electricity has also increased.
Health Minister Ivo Garrido on Monday said that three more people had been confirmed dead during the protests, taking the total death toll to 13.
Text messages have been circulating, urging people to continue with the violence.
There are some reports that the six arrested in Nampula were accused of sending texts but this was denied by local police spokesman Inacio Dina, who said they were organising a meeting to plan violence.
One of those detained, however, said the meeting was for the opposition Renamo party.
Maputo is reported to be calm on Monday but with a heavy police presence in the suburbs where the riots broke out.
Some 443 people have also been injured since the riots began, Health Minister Ivo Garrido said on Friday.
There have also been clashes in the central city of Chimoio.
The price hikes were partly caused by a decline in the value of the Mozambican currency against the South African rand, analysts say.
But they come as global wheat prices soar following a drought in Russia, one of the world's main exporters.