Many feared dead in DR Congo after boats capsize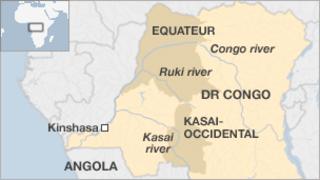 Many people are feared dead in the Democratic Republic of Congo after two boats capsized in separate incidents.
One of the boats was carrying up to 300 people when it caught fire on the Kasai river near the border with Angola.
Information Minister Lambert Mende Omalanga told that the BBC the vessel had been transporting fuel and was not supposed to be carrying any passengers.
In the other accident, at least 24 people died in the province of Equateur when a boat capsized on the Ruki river.
The boat had up to 100 people on board, Mr Mende told the BBC.
A spokeswoman for Equateur's provincial government, Rebecca Ebala, said more than 70 people were believed dead. Fifteen survivors had so far been found, she added.
Officials are investigating why the boat was sailing at night without lights.
'Full of people'
The accident in Kasai-Occidental province happened the previous day.
"It was not a passenger ferry. It was a ferry which was carrying fuel," Mr Mende told the BBC.
"It seems that at least 24 people were on board because they have been rescued. But some other people might have died. And we don't have the report because this boat is not supposed to carry passengers."
One of the survivors confirmed that fuel drums on board the vessel had caught fire before it capsized near the village of Mbendayi.
Romaine Mishondo said the boat was so crowded it had reminded her of "a whole market in the village full of people".
When it began to sink and people began jumping overboard, local fishermen ignored their pleas for help, she added.
"Fishermen attacked the boat and started beating passengers with paddles as they were [trying] to loot goods," she told the Associated Press. "The fishermen refused to save passengers, instead taking goods into their pirogues [small, flat-bottomed boats]."
"I survived because I hung onto a jerry can until another vessel passed by the scene and rescued us."
Boats and ferries are commonly used in DR Congo, which has few viable roads or railways but several major lakes and rivers.
However, the vessels are often overloaded or badly maintained, and accidents are commonplace.