Sudan settles on independence referendum committee head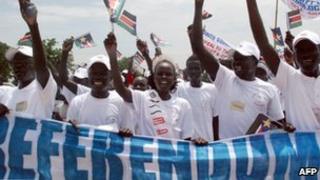 The referendum commission in Sudan has unanimously agreed on who should take up the key position of secretary-general of the body.
Representatives from northern and southern Sudan had for months been unable to agree on who should head the commission.
Work on the referendum had stalled.
The appointment of northerner Mohamed Osman al-Nijoumi, and the fact that he was chosen unanimously, are signs of progress.
Both sides had previously insisted that their own representative fill the post.
The southerners eventually gave in and said they would be prepared to accept someone from the north.
Paralysed
But there is still a huge amount of work to do.
Time is running out and the commission has been virtually paralysed for months.
Voter registration has not started yet, and the eligibility of who exactly will be allowed to vote on whether the south should secede has not been decided.
The commission will have to buy all the registration materials, and deliver them around the vast territory of Southern Sudan during the rainy season.
How this will be done before the deadline of 9 January is difficult to imagine.
But the southerners insist the referendum is held on time.
Even if it is, key, and potentially explosive, decisions on the distribution of oil revenue and the final border demarcation will not be made until after the referendum.
With relations between the north and south already tense, and conflict intensifying in the separate western region of Darfur, Sudan is likely to experience a very difficult next few months.