Mozambique police fire rubber bullets at Maputo rioters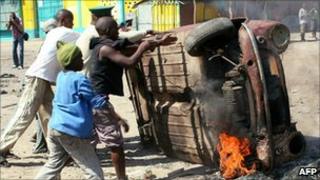 Police have fired rubber bullets and tear gas at protesters in parts of the Mozambique capital on the third day of riots over rising food prices.
Elsewhere, Maputo was calm, with shops and businesses reopening and long queues of people waiting to buy bread and petrol.
Ten people have been killed and 443 injured since the riots began, Health Minister Ivo Garrido said on Friday.
There have also been clashes in the central city of Chimoio.
Six people were shot by police there after protesters tried to stop markets opening, Lusa news agency says.
The latest violence in Maputo was in the suburbs of Benfica and Hulene on the city's outskirts.
However, the BBC's Jose Tembe in the city says Friday's clashes were relatively minor and the police say they have restored order.
The protests began after the price of bread rose by at least 20% in one of the world's poorest countries.
Trade and Industry Minister Antonio Fernando told the BBC's Focus on Africa programme that the government was striving to make the country less dependent on imported food.
'Irreversible'
On Thursday, government spokesman Alberto Nkutumula condemned the violence on the streets of the capital and appealed for people to remain calm, but said the government would not reconsider increasing the price of bread.
"The price hikes are irreversible," he told reporters.
Troops were deployed on the streets of the capital on Thursday to clear barricades, debris and burning tyres left by protesters. Sporadic gunfire was heard during the day.
Many witnesses say police have used live bullets to break up the crowds but this has been denied by officials.
Home Affairs Minister Jose Pacheco said the government was trying to trace the source of text messages circulating among the city's residents, urging them to continue protests on Friday.
"I received an SMS saying the strike must continue for three more days," Abel Salvador Bild, a street vendor in the capital, told AFP news agency.
The violence has been the worst in Mozambique since 2008, when clashes between police and rioters over rising prices left at least four people dead.