Senegal star Youssou N'dour launches TV channel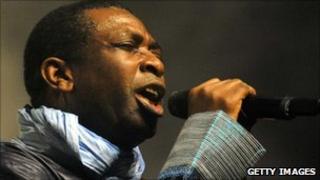 Senegalese pop star Youssou N'dour has officially launched his own television station in Senegal after a two-year struggle with the authorities.
The singer already owns a major private media group in Dakar, which tends to be critical of the authorities.
The new channel, TFM, is officially a cultural one, after the authorities refused to grant him a licence for a general channel, correspondents say.
Mr N'dour now hopes to reach out to neighbouring countries, they say.
He hopes to make his company the leading media organisation in West Africa, says BBC West Africa correspondent Thomas Fessy in Dakar.
His radio station, launched seven years ago, is a major success and has the biggest audience in the capital, Dakar.
Radio editor Allassane Samba Diop, who will run a programme on TFM (Television Future Medias), told the BBC that "cultural" was a very general term.
He said it would still allow the channel to cover social, political and economic issues. TFM is the country's fifth private TV channel.
Youssou N'dour performed and made a speech to mark the event.
"In a world where more and more people are affected by the strength of images and the speed of information, it is a pleasure to say that the state of Senegal made the right decision on 11 May 2010, allowing the broadcast of TFM."
Political influence?
Fans welcomed the launch in Dakar.
"We hope that God will bless his television... We wish him good luck hoping that, thanks to God, he will achieve what his aiming at with this television," says fan Saliou Diouf.
The disagreement over the licence stemmed officially from the way the channel would be financed. Senegalese President Abdoulaye Wade initially said the licence to broadcast had been turned down to stop "foreigners" influencing policy.
Using his popularity as a celebrated musician, Mr N'dour rallied thousands of supporters to his cause and finally reached an agreement with the government, says the BBC's Tidiane Sy in Dakar.
Mr N'dour has previously said he would not be seeking the country's top office, but that he would support a candidate in the next presidential elections, expected to be held in 2012, our correspondent adds.