South Africa's public sector strike set to continue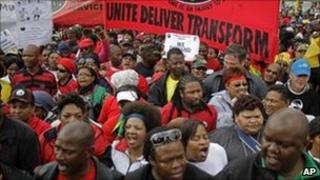 South Africa's public sector strike is set to continue after the main trade union federation rejected an improved wage offer from the government.
The Cosatu federation said the majority of its affiliated unions had voted against the proposal.
The strike - now into its third week - has seen many schools and hospitals grind to a halt.
Earlier this week, the government raised its pay offer to 7.5%, but the unions are demanding 8.6%.
The government also offered an 800-rand (£71, $110) housing allowance - up from the earlier proposed 700 rand. But the unions want a 1,000-rand allowance.
"The unions met this afternoon and Cosatu rejected the offer. The strikes will continue and we will continue to consult our members," Cosatu Secretary General Zwelinzima Vavi told Reuters on Wednesday.
Zuma under pressure
However, the Independent Labour Caucus - a smaller union federation - said its members were split on the government offer.
Cosatu did say it was suspending a one-day sympathy strike on Thursday by all its member unions to give the state workers more time to consult. Further talks are now expected later in the day.
About a million civil servants are already on strike, but Cosatu's total affiliated membership is double that.
Earlier this week, South Africa's President Jacob Zuma called for fresh attempts to negotiate a solution to the strike.
The stoppage has had a crippling affect especially on hospitals, where army medics and volunteers are caring for patients.
The BBC's Karen Allen in Johannesburg says that the president needs to restore relations with the unions, his key power base, ahead of a policy conference of the major ruling party, the African National Congress, in three weeks' time.