Russian pilots freed in Sudan's Darfur region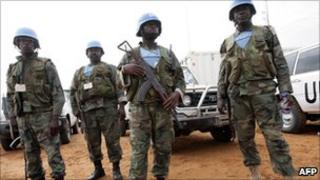 Three Russian pilots kidnapped in Sudan's war-torn Darfur region two days ago have been freed, regional officials and Russia's Khartoum embassy say.
They were working for Badr Airlines, which provides transport for the joint UN-African Union peacekeeping force.
Initial reports had said two pilots were abducted on Sunday evening in Nyala, Darfur's largest town.
There has been a spate of abductions in the last year targeting foreigners. Most appear to be for money.
On Monday US aid worker, Flavia Wagne, was freed unharmed after being held for more than 100 days.
Her kidnappers said she had been released without receiving a ransom.
"Just a few minutes before it was confirmed to us that Russian pilots were released and are staying in Nyala," Yevgeny Arzhantsev, head of the consular department at the Russian Embassy, told Russia's state-run Itar-Tass news agency.
"We are trying to keep in touch with them. They are all right," he said.
The agency says it is unclear yet whether a ransom was paid.
According to Reuters news agency, the UN and African Union peacekeepers are digging a trench around Nyala to prevent kidnappers entering the town.
Unrest and fighting has intensified in Darfur over the last few months after rebel Justice and Equality Movement rebels pulled out of peace talks with the government, accusing it of acting in bad faith.
The UN estimates the six-year conflict in Darfur has cost the lives of 300,000 people and driven a further 2.7m from their homes.
The government puts the death toll at 10,000 and has said the problems in Darfur have been exaggerated for political reasons.
Sudanese President Omar al-Bashir is wanted by the International Criminal Court (ICC) for alleged war crimes committed in Darfur - charges he strongly denies.